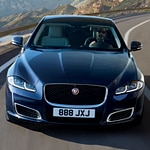 The Jaguar XJ is one of the true industry leaders in its class, one of the most popular luxury rides on the streets of Littleton, CO and around the globe. There are a number of important reasons why the Jaguar XJ is so widely well received. These includes the outstanding Jaguar XJ exterior features.
These exterior features include dynamic styling, including a sleek teardrop design. The overall design of the Jaguar XJ makes this one of the most aerodynamic sedans in its class. The design of this sedan enhances fuel efficiency and lowers carbon dioxide emissions. The exterior of the Jaguar XJ comes complete with a stunning grille with mesh detail, surrounded by energy-efficient LED lights.
You can see the Jaguar XJ and its features by taking a test drive. You can schedule at test drive at Stevinson Imports, Inc. any time convenient for you.